Indulge at Our Romantic Bed and Breakfast
Luxurious & Historic Lodging in Blue Hill, Maine
Main Inn
| | Room | Guests | Bed | Bath | Features | |
| --- | --- | --- | --- | --- | --- | --- |
| | Room 1 | 2 | King | Tub/Shower Combo | First-Floor, Corner Room | Check Rates |
| | Room 2 | 3* | Double & Twin | Shower | Second-Floor, Two-Room Suite | Check Rates |
| | Room 3 | 2 | Queen | Clawfoot Tub & Shower | Second-Floor, Sitting Area | Check Rates |
| | Room 4 | 2 | King | Clawfoot Tub & Shower | Second-Floor, Wood-Burning Fireplace, Seating Area, Writing Desk | Check Rates |
| | Room 5 | 2 | Queen | Tub/Shower Combo | Second-floor, Wood-Burning Fireplace, Available as a Two-Room Suite with Room 6 | Check Rates |
| | Room 6 | 2 | Queen | Tub/Shower Combo | Second-Floor, Decorative Fireplace, Available as a Two-Room Suite with Room 5 | Check Rates |
| | Room 7 | 2 | Queen | Shower | Second-Floor, Seating Area | Check Rates |
| | Room 8 | 2 | King | Shower | Second-Floor, Seating Area, Writing Desk | Check Rates |
| | Room 9 | 3* | Queen & ¾ Bed | Tub/Shower Combo | Third-Floor, Two-Room Suite, Seating Area, Writing Desk | Check Rates |
| | Room 10 | 2 | Queen | Tub/Shower Combo | First-Floor, Wood-Burning Fireplace, Seating Area, Desk | Check Rates |
| | Room 11 | 2 | Queen | Tub/Shower Combo | First-Floor, Decorative Fireplace | Check Rates |
Cape House
| | Room | Guests | Bed | Bath | Features | |
| --- | --- | --- | --- | --- | --- | --- |
| | Cape House Studio | 3* | King & Twin | Tub/Shower Combo | Ground-Floor, Kitchenette, Art Supplies & Books, Pet-Friendly, Available Year-Round | Check Rates |
| | Cape House Suite | 4* | King | Tub/Shower Combo | Ground-Floor, Full Kitchen, Sleeper Sofa, Fireplace, Private Deck, Pet-Friendly, Available Year-Round | Check Rates |
* Prices are for double occupancy. Additional guests are $35 per night
Enjoy a unique and romantic place to stay in Blue Hill, Maine. The rooms at the inn have private bathrooms, air conditioning, bathrobes, hairdryers, irons and ironing boards, and down comforters. Each room at this Maine bed and breakfast are unique and adorned with period antiques and comfortable seating, many with writing desks and working fireplaces. Complimentary high-speed wireless internet is provided throughout.
During the summer season, multi-course breakfasts are served in the sun-filled breakfast room; afternoon coffee, tea, and pastries; and evening hors d'oeuvres are offered daily and are included in the room rates. The inn has a full liquor license and offers a selection of fine liquors, beers, and wines.
You will enjoy relaxing in the inn's gardens have comfortable chairs and a hammock for reading or relaxing. Our library, with its game table and extensive collection of books, many by Maine authors, is a lovely spot to curl up to read, as is the parlor with its wood-burning fireplace.
Our staff are ready to be your concierge to the area and help you plan your daily activities. From hiking nature trails, gallery hopping and perusing the shops or taking in a concert, to short trips to see the hidden gems on our peninsula or experience our rugged coastline in Acadia National Park, we will help you discover all the splendor and beauty Downeast Maine has to offer.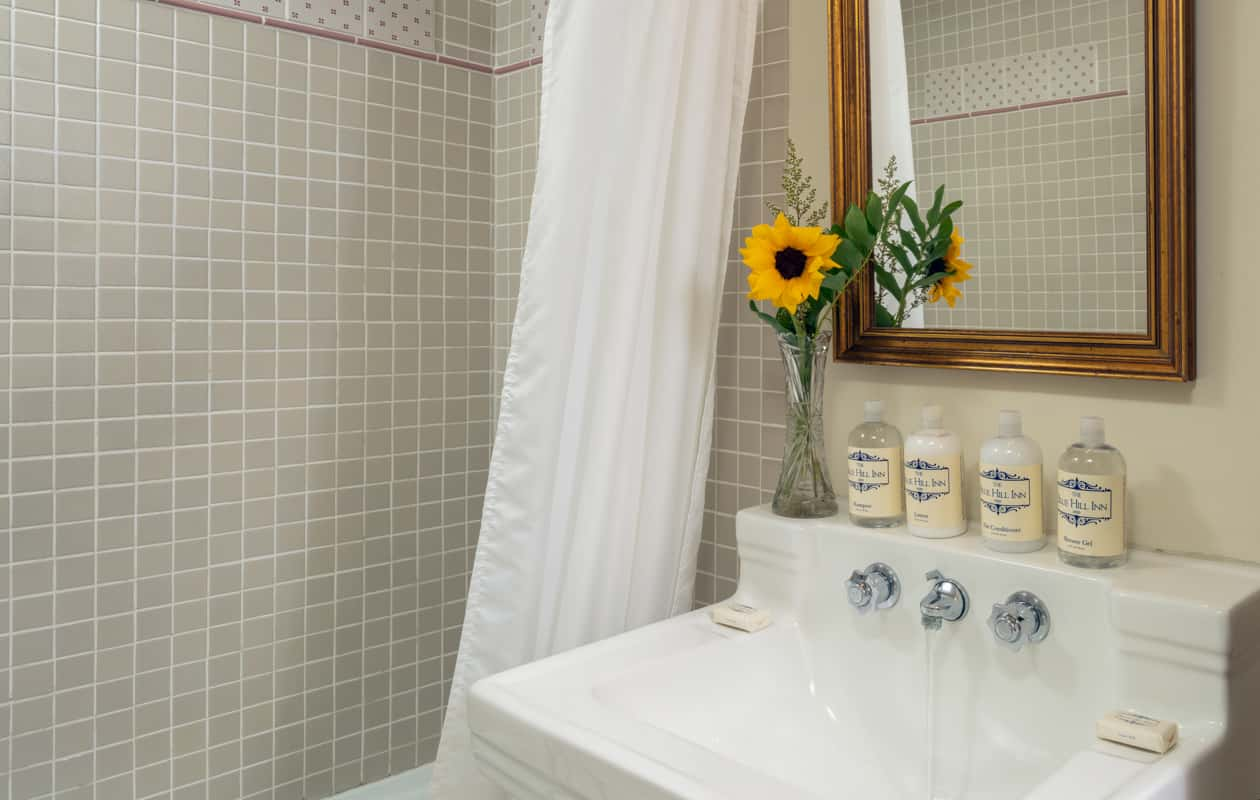 Room Amenities
Air conditioning
Antique furnishings
Down comforters
Fine linens
Plush robes
Private bathrooms with hairdryers
Luxurious hair products and body lotion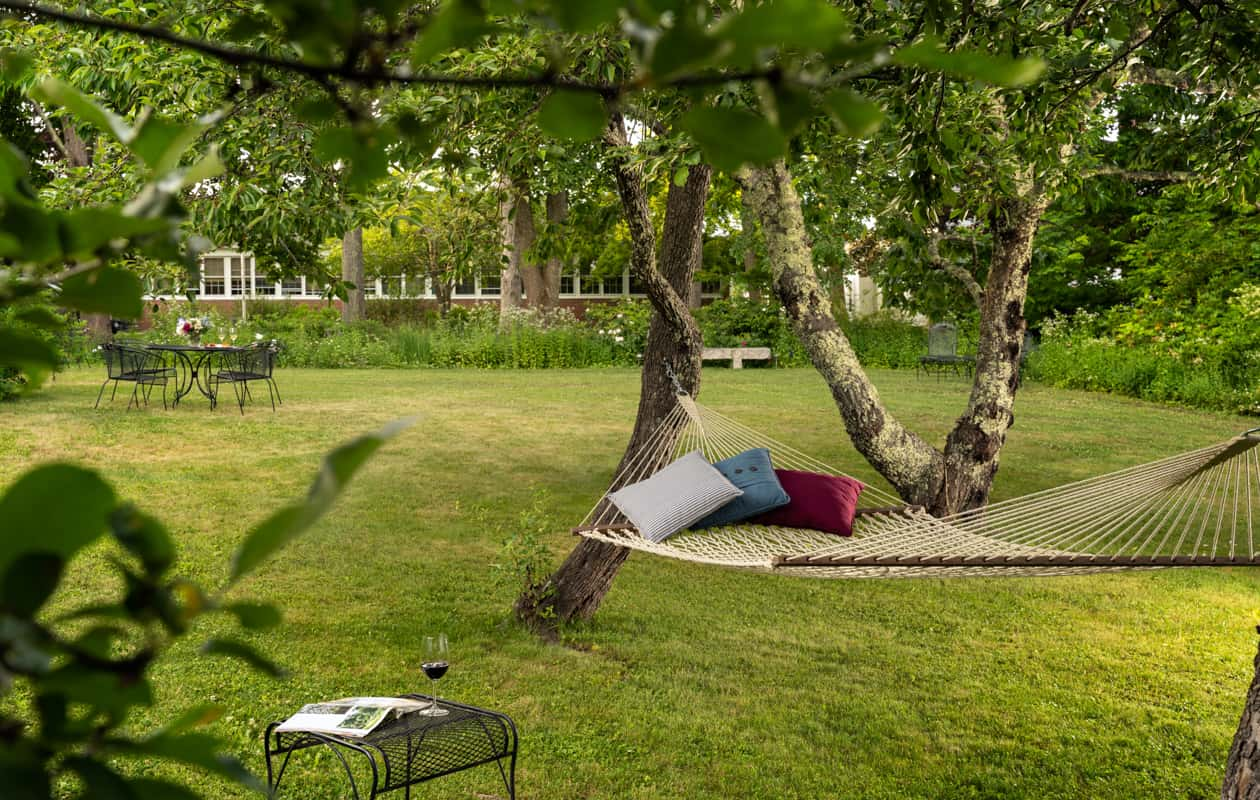 Property Amenities
Complimentary wireless high-speed internet
Use of guest computers, and printer access
Portable telephone available, free local calls, no inn surcharge on long-distance calls
Garden areas with outdoor seating
Guest library, including area guidebooks, reference books, and books by local authors
Guest parlor with fireplace
Reservations
We require a one-night deposit to secure a reservation. For extended stays or multiple rooms, we may require a 50% deposit. This is payable by cash, check, or credit card but we must also have a current credit card on file. The deposit may be waived for returning guests. Because there is such an abundance of activities in and near Blue Hill even on a rainy day, the Blue Hill Inn encourages longer stays. We think you'll like the area as much as we do and would be happy to discuss special rates for longer stays of four nights or more.
Check-In/Out
We guarantee rooms will be ready for check-in by 3 p.m. They are often ready earlier and we do have lovely parlors should you stop by early and need to wait a moment. Our check-out time is 11 a.m. If you find you need a little extra time, we may be able to accommodate later departures with advanced notice.
Cancellation Policy
Unlike large chain hotels and resorts, we never overbook in anticipation of cancellations. As such, your room is reserved for you alone, from the time you book your stay. Each reservation is like a puzzle piece around which all the others fit. As such, cancellations on short notice make it extremely difficult to rebook vacancies. For this reason, once within the cancellation period, two weeks prior to your arrival, you are financially responsible for the rooms and dates as booked, and we are unfortunately not able to accommodate cancellations, change of dates, or shortening of your stay. We regret that we have to be so firm with this policy, but we've found it to be crucial to running such a small business successfully. Reservations for multiple rooms or stays longer than four nights have a 30 day cancellation period. There is an administrative fee of $25 for all cancellations. If this policy is a concern for you, we highly recommend that you consider travel insurance, which is widely available and will compensate you in the event that unforeseen circumstances disrupt your plans.
Pets 
We welcome pets of all sorts in our Cape House Suite and Cape House Studio. Unfortunately, we cannot accommodate pets in our main inn. Although we don't require a pet deposit, the guest will be held responsible for any repair or cleaning costs if necessary.
Smoking
The Blue Hill Inn is a non-smoking property. This includes the Cape House and the surrounding gardens. A room cleaning fee of $100 will apply for non-compliance.
Accessibility (ADA)
Blue Hill Inn, listed on the National Registry of Historic Places, warmly welcomes all guests. However, due to the historic significance of our 1830's Federal period building, the property is not wheelchair accessible. Removal of necessary physical barriers for accessibility is not readily achievable as such removal would threaten or destroy the historic significance of the property.
For those with limited disability, The Cape House Suite is accessible by wheelchair.
We work to ensure every guest who wishes to visit can do so regardless of their physical abilities. Among the ways we comply with ADA:
We ensure that individuals with disabilities can make reservations during the same hours and in the same manner as individuals without disabilities.
We have identified and described accessible features in our bed and breakfast and guest rooms in detail to allow individuals with disabilities to determine whether our B&B meets their needs.
Guests with legitimate service animals as defined in the ADA will be provided access to all areas of the inn afforded to those without service animals.
For special accommodation needs, please call us directly at (207) 374-2844 so we can help you determine the best guest room to ensure you have a comfortable arrival and enjoyable stay.