Explore our Romantic Maine Coast Inn
Well-Appointed Guest Rooms, Sun-Filled Dining Room and Comfortable Parlors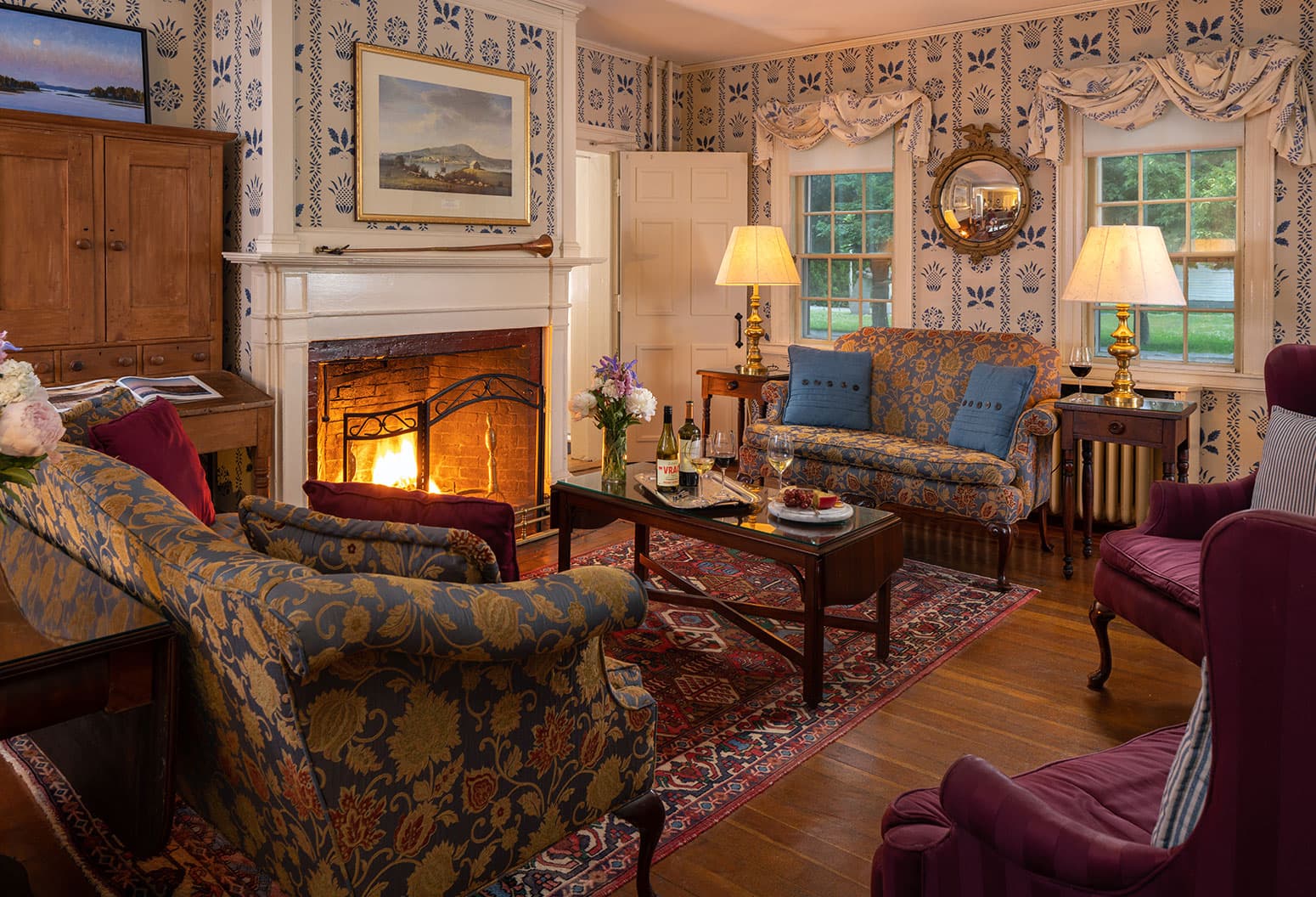 Experience Gracious Hospitality
Individualized guest attention is the first priority. Innkeeper, Duncan Hamilton and the staff of our romantic, Maine Coast inn will make suggestions, assist with itineraries, help with directions, and make dinner reservations at restaurants, many within walking distance of the inn. They're familiar with the area and can direct guests to great boating, live music, beautiful picnic spots, shopping, and delicious lobster rolls. Located on two acres of land in the center of the village of Blue Hill and a block from the head of Blue Hill Bay, the inn, built in 1830, is part of the National Historic District of Blue Hill. Heritage elm trees, a perennial garden, and a small grove of fruit trees shade a variety of outdoor seating areas and a cozy hammock.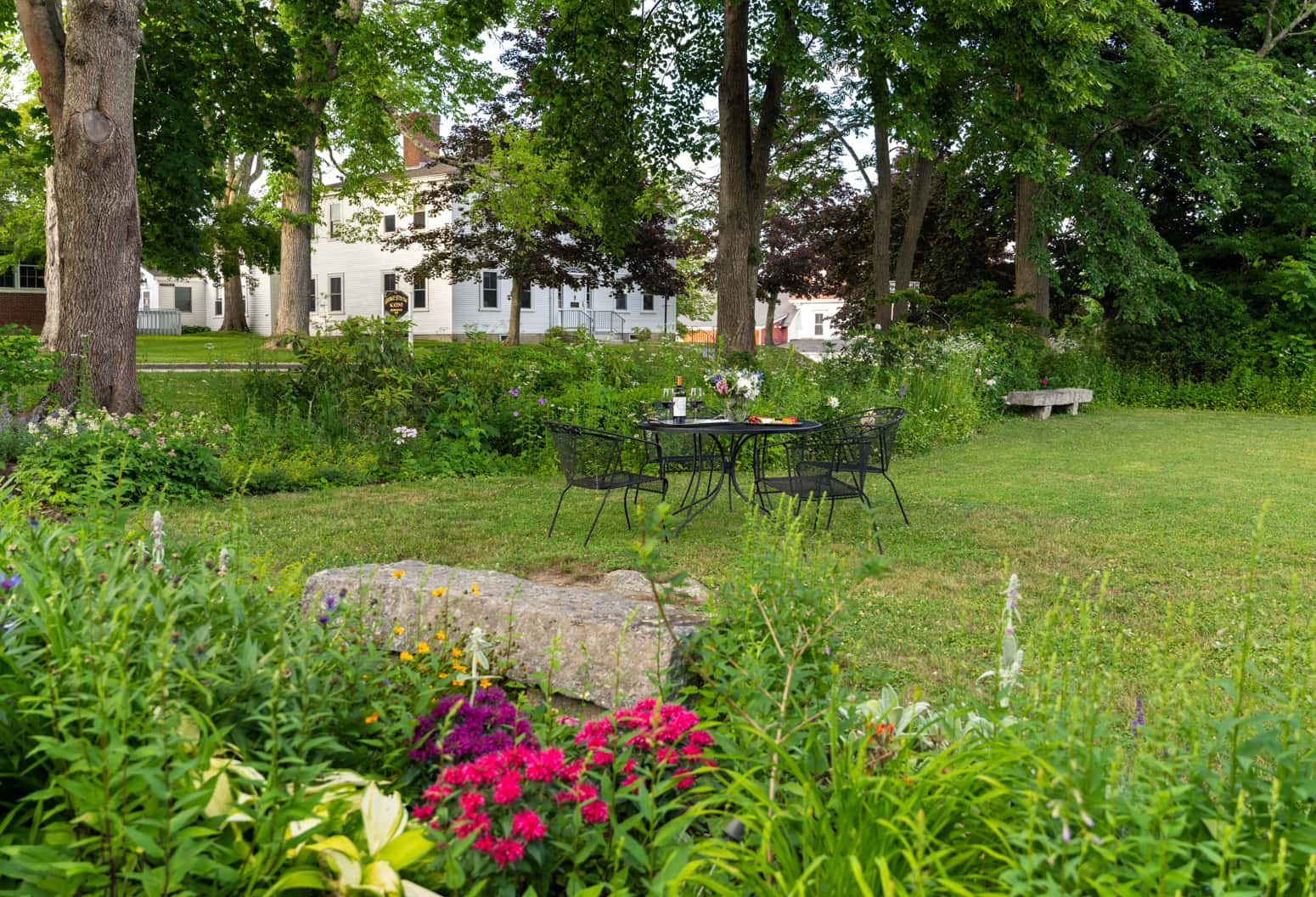 We Go Beyond the Bed and Breakfast
The staff at the inn are passionate about working with local farmers, fishermen, and purveyors. We enthusiastically support the developing concepts of eco-tourism, sustainable triple bottom line business practices, and green lodging practices. The inn has been awarded Maine's Environmental Leader and Trip Advisor's Green Leader designation in recognition of efforts made at the inn, including using environmentally friendly cleaning supplies and light bulbs, purchasing organic food and composting kitchen scraps, and recycling all waste possible.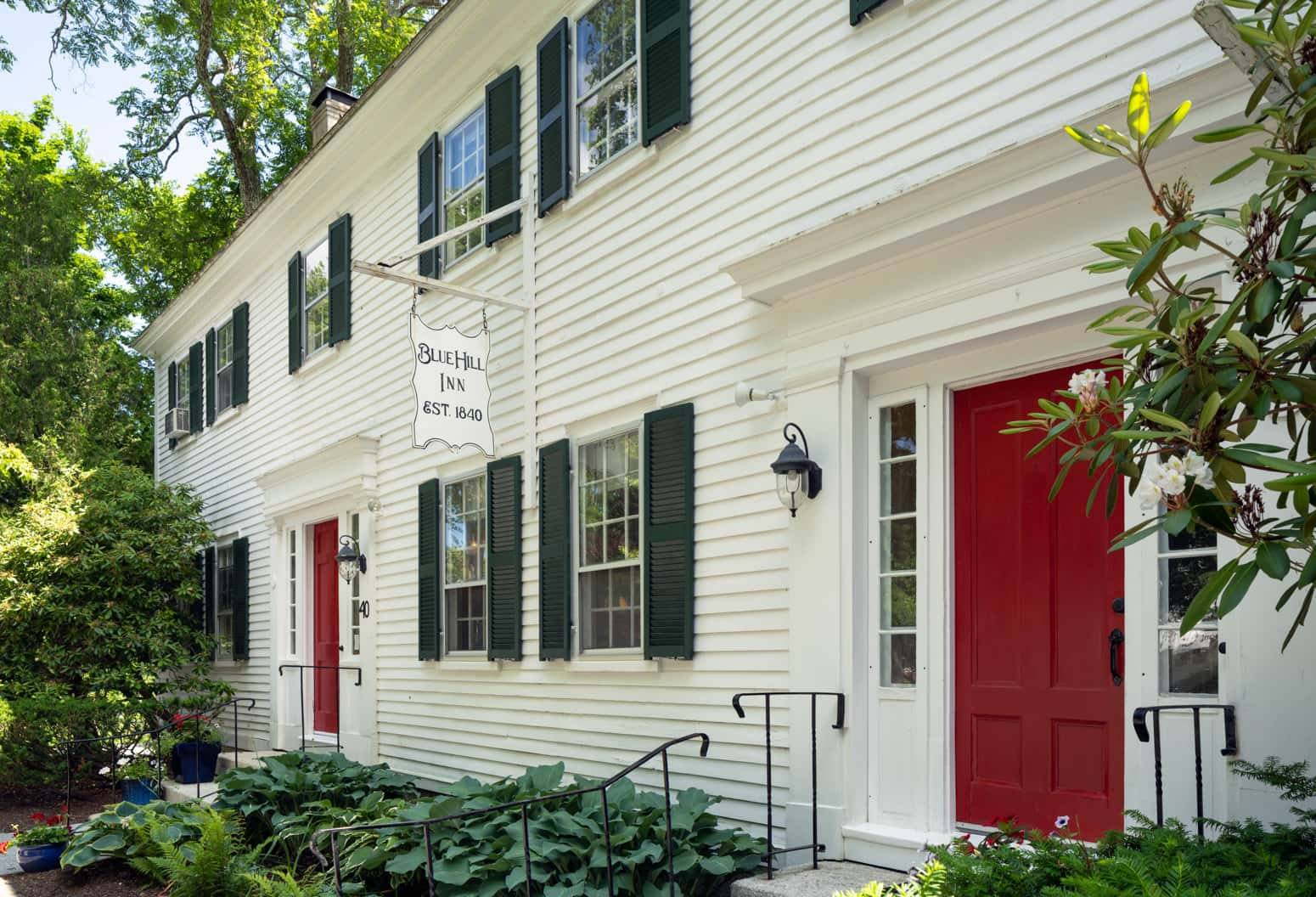 Honor the History of the Main Inn
A Federal period building, the Blue Hill Inn has eleven guest rooms, a sun-filled dining room, and two comfortable parlors. It retains many of its original features, including clapboards, nine over six windows, wide pumpkin pine floor boards, and six fireplaces. The inn is part of the Blue Hill Historic District designated by the National Register of Historic Places and has been welcoming guests continually for nearly 200 hundred years.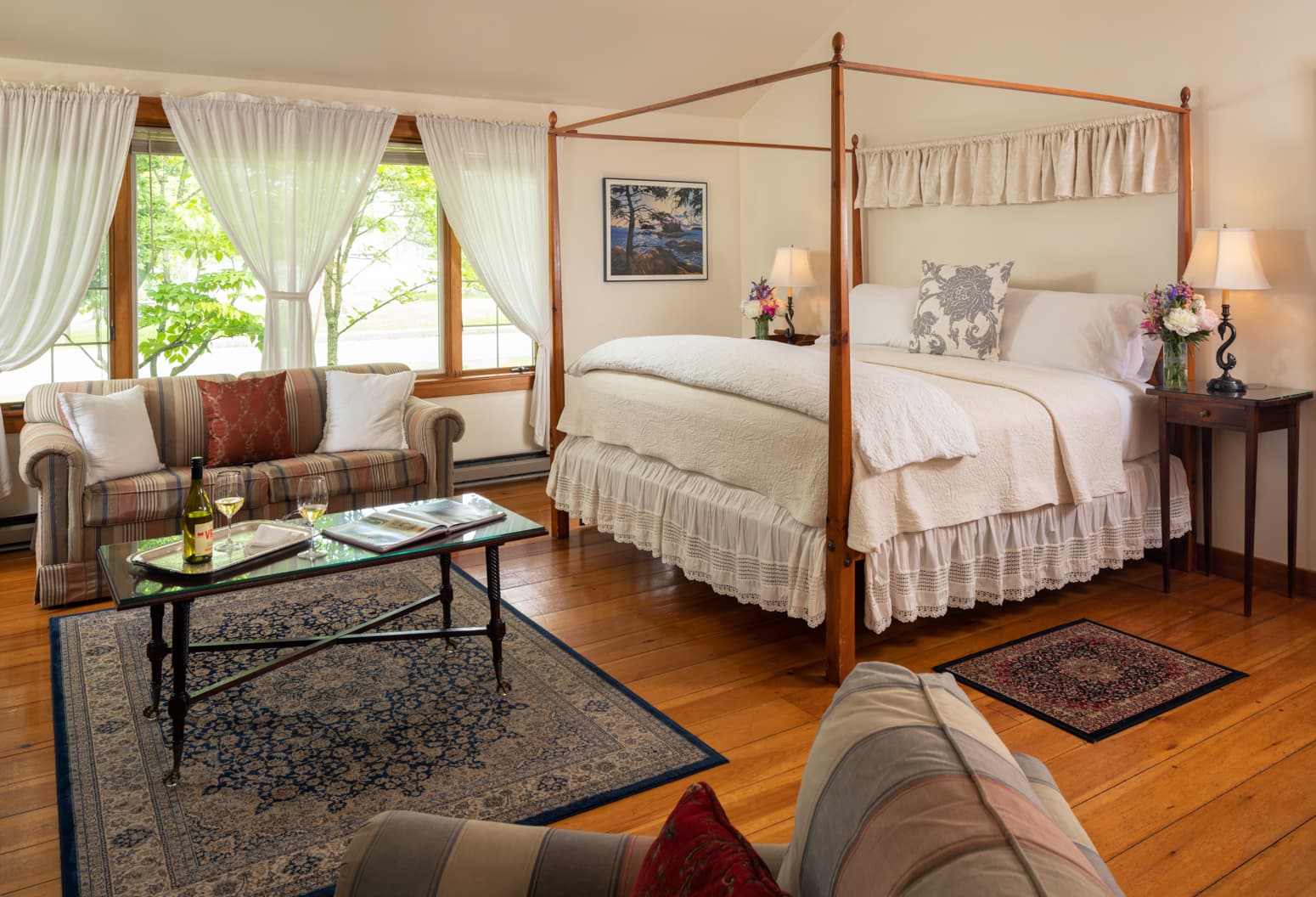 Appreciate the Privacy of the Cape House
Adjacent to the inn is the more recently developed Cape House, with two larger, more modern suites with kitchens and televisions. The Suite features a private deck shaded by a willow tree and a full kitchen, while the Studio offers a kitchenette. Both units are pet-friendly.
Meet The Innkeeper
Duncan Hamilton grew up spending part of every summer on the Blue Hill Peninsula. His father's family settled in the area around the time the town was incorporated in 1789 and his family continues to own summer homes in the neighboring town of Brooklin along Eggemoggin Reach and Blue Hill Bay.
Originally from western Massachusetts, he spent most of his life managing small, boutique hotels in on the west coast mainly in Portland, Oregon. In the late 90's, he spent a few summers working at the inn while enjoying his time connecting with family in the area. He returned in 2013 and worked as an assistant to the previous Innkeeper before purchasing the inn in 2016. With a degree in hotel management, years of experience working in the hospitality industry, and a love for this area, he will ensure you feel like you are at your new home away from home.
Map of Blue Hill Inn & Surrounding Area
The Inn's address is 40 Union St, Blue Hill, Maine 04614

Driving Directions
Approximately 5 hours from Boston, 3 hours from Portland, and 2 hours from Augusta, Maine.
Take I-93 North to I-495 North/East. At the Maine border take 95 N to the Portland area. In the Portland area take 295 N to Augusta. Take the 3 East exit in Augusta.
Follow Route 3 East through Augusta to Belfast. From Belfast continue on 3 East and 1 North through Bucksport where you also merge with Route 15 South. Only in Maine can you drive north, east, and south all at the same time!
About 9 miles east of the town of Bucksport, watch for a right hand turn for Blue Hill and Route 15 South by the Shell station.
Continue on 15 South for about 8 miles to a road sign for the Blue Hill Inn. The sign directs you to drive straight ahead leaving Route 15 to Route 177 East. Follow 177 East for 4 1/2 miles bearing left at the fork. The inn is located on the right, across from George Stevens Academy.
About 1 hour.
Exit the park and follow Route 3 West into Ellsworth.
At the light at Main Street, turn left to follow Routes 3, 1 South, and 172 South.
After you go through the next set of lights and cross a small bridge, get in the left hand lane and head up the hill and bear left staying on Route 172 South.
Follow Route 172 through Surry and into Blue Hill (about 12 miles).
When you cross the small bridge in the center of Blue Hill, take the next right on Union Street, Route 177 West
The inn is on the left across from George Stevens Academy.
About 1 hour.
From the airport, take Godfrey Road to Union Street.
At Union Street light, turn right.
Follow Union Street to S. Main Street, turn right.
Stay on Route 15 South through Brewer and Bucksport.
From Bucksport, follow directions from above.
Allow extra time for traffic.
You can follow Route 1 North until it merges with route 3 in Belfast.
From there, follow the directions above.
Follow Route 1 until the town of Orland.
From Orland pick up Route 15 South to Blue Hill (see Bucksport above).